June 2022 Newsletter
Posted on June 1, 2022 by Riva Market Research Training Institute
Happy June 1st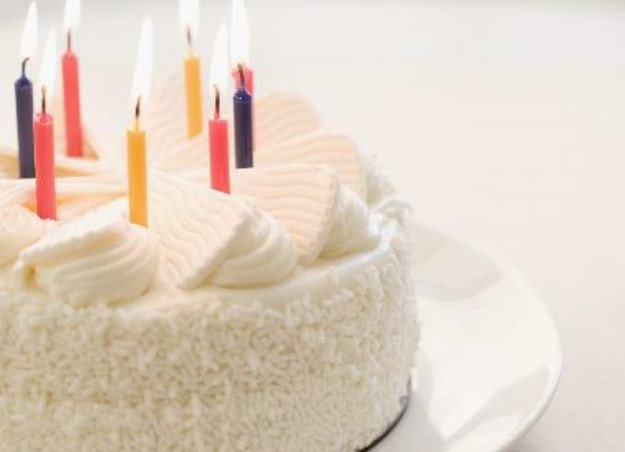 Today marks RIVA's 41st birthday! RIVA's founders began this company back in 1981 and it has become the "gold standard" thanks to all our students/staff throughout the years. Over that time, RIVA has had the privilege of sharing decades of experience with other members in the industry. Naomi's goal was to leave the industry in a better shape than how she found
it, and RIVA is committed to maintaining and furthering that impact.
Our summer is packed with upcoming courses along with staff taking vacations to far [or not so far]
locations! We can't wait to see you [in person or virtually] in one of our courses!
RIVA Updates
In 2021, we returned to the classroom! We've carried that into 2022 – now offering both in person and virtual options to our students.
RIVA is hard at work updating our new website! We hope to have this launched very soon so stay tuned.
RIVA is hiring! See further in the newsletter for more information on who we're looking for to join our team.
Staff are working on the next wave of RIVA online courses!
RIVA Staff updates:

Amber has been adventuring on college tours with her oldest son!
Jo Ann has just returned from a lovely vacation in Florida and is ready to get back in the classroom fully refreshed. She has also officially relocated to the MD area.
Bonnie's birthday is this month!

RIVA is entering our third year of IACET accreditation! You can earn CEUs for all of our courses.
Upcoming Classes
As you look ahead in planning your summer – why not add a RIVA course to your career development?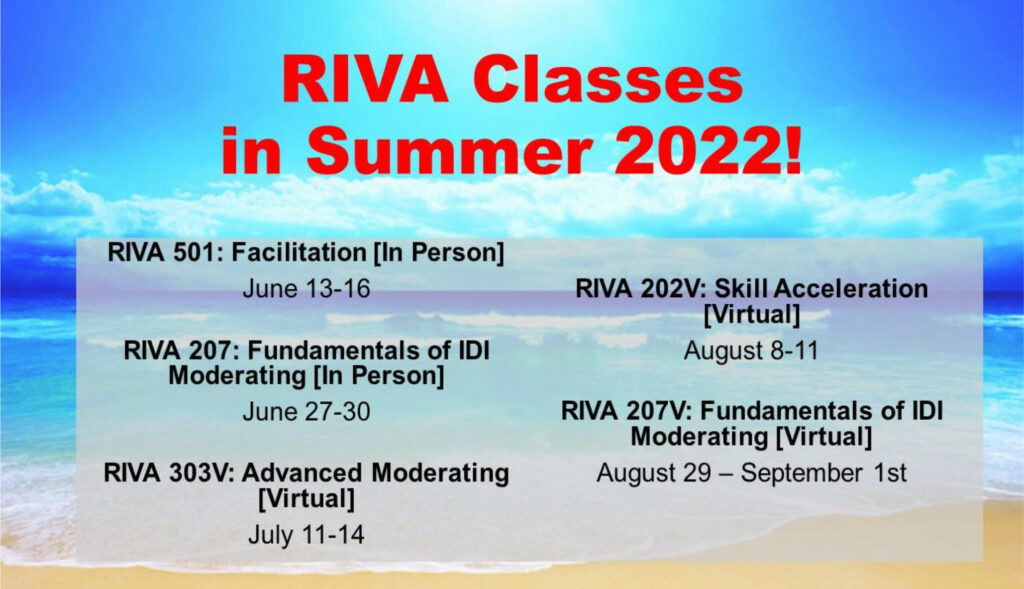 RIVA 501: Facilitation: Tools, Tips, & Techniques – In Person
June 13-16
RIVA 207: Fundamentals of IDI Moderating – In Person
DATE CHANGE: June 27-30
RIVA 303V: Advanced Moderating – Virtual
July 11-14
RIVA 202V: Skill Acceleration – Virtual
August 8-11
RIVA 207V: Fundamentals of IDI Moderating – Virtual
August 29-September 1
RIVA 204: All About Ethnography – In Person
September 12-14
RIVA 241: Qualitative Analysis & Reporting – In Person
October 3-6
RIVA 201: Fundamentals of Moderating – In Person & Virtual
All our RIVA 201 courses are full this summer, but you can be added to the waitlist – for dates,
please visit our website: https://www.rivainc.com/#courses4
Don't forget that you can take RIVA 195V: Principles of Qualitative Market Research [QLMR] asynchronously – whenever it works for you! https://www.rivainc.com/courses.html#1|courses2
RIVA offers a variety of custom course options that can be tailored to your team's needs! Reach out to Amber at amber@rivainc.com to bring our expertise to you!
You can visit our website, https://www.rivainc.com/#courses1, to register or learn more about any of our courses.
Events on our Radar
QRCA Webinar: Get Your Empathy Muscle in Shape: A Chat with Author Rob Volpe
June 3rd at 1pm ET – https://www.qrca.org/events/EventDetails.aspx?id=1631662&group=
QRCA Qually Talk – members only
June 16th at 1pm ET – https://www.qrca.org/events/EventDetails.aspx?id=1643979&group=
#AskaRIVATrainer Facebook Live Series
The next episode of our #AskaRIVATrainer 2022 Facebook live series is scheduled for August 12th. The topic and guest speaker will be announced closer to the date. Be sure to mark your calendars and follow us on our social media to be the first to know!
We're Hiring!
RIVA is looking for a FT Qualitative Moderator/Trainer to join our team. The candidate needs to live in the DCA. For a full listing of the job description and to apply please visit LinkedIn – https://www.linkedin.com/jobs/view/3094102141/.
**If you want to be removed from our mailing list, please reply to this email with "Unsubscribe" in the
subject line. We'll be sad to see you go!**
Happy RIVA Day!
Brittany Mohammed
Associate Project Coordinator
RIVA Market Research & Training Institute
1201 Seven Locks Rd, Ste 360
Rockville, MD 20854
Phone: (301) 770-6456
Fax: (301) 770-5879
www.rivainc.com
Follow us on Facebook: @rivamarketresearchandtraining
Follow us on Twitter: @RIVAINC
Celebrating 40 years!
"We do what we teach and we teach what we do."
RIVA Training Institute is now IACET Accredited
Find out more about Naomi's new book at:
[www.secretsofamastermoderator.com]