Beyond Probes – Using Interventions and Projective Techniques to Get Below Top-of-Mind Answers
Posted on May 23, 2022 by linda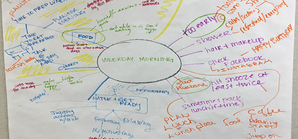 This experiential course, for seasoned moderators, offers a training environment for students who seek to build more complex and non-traditional moderating styles through special tools and techniques.
It is a two-day course that concentrates on teaching the philosophies behind interventions and "projective techniques as well as metaphorical techniques used in focus groups to access deeper data. Additionally, this course provides experiential demonstrations of multiple techniques by trainer.
Participants will receive written materials in a workbook to take home and use as a resource as well as a list of recommended readings to build a continuing knowledge base.
Course Objective:
To give students a deep, rich repertoire across a broad scope of interventions and projective techniques, and a context for using them appropriately.
Course Prerequisites:
Moderators who have taken RIVA 201, 202, or 303; or have received the approval of RIVA's Executive Training Director, Amber Tedesco. It is expected that participants in this class have been moderators for a period of time and want to upgrade their skills.

After taking this course, graduates will be able to:
• Describe various methods used in qualitative research – focus groups, IDIs, as well as other qualitative research sessions beyond traditional probes
• Define the objectives of various interventions and projective techniques
• Learn the do's and don'ts for various interventions and projective techniques
• Review the basic format of most below top-of-mind methods (e.g., set up, variations, debriefing) and how to apply them to meet specific client objectives
• Prepare the design and development a package of techniques to meet research goals and receive expert feedback and coaching via in class "recorded mocks"
• Build on a repertoire of useful techniques by creating their own to fit their unique qualitative research needs
• Develop alternative techniques to elicit respondent behavior beyond: "So, Bob, what do you think?
• Demonstrate skills to break through a non-productive qualitative research session with challenging respondents
• Discover how to present interventions and projective techniques to ensure support of clients when in the research design stage
• Define the role of the ethics of these methods in qualitative research
•Evaluate the information and skills needed to adapt, create, and modify methods to meet ever-changing needs
How Students are Assessed:
Students are expected to attend and participate in all modules, including lectures, practice sessions with fellow students, practice sessions with recruited respondents, and open forums. Trainers use in-depth feedback forms to provide students with individualized, targeted written and oral feedback throughout the class. On the last day of class, students will have the opportunity to demonstrate the implementation of all feedback in an intervention/projective technique.